Sexy Tattooed MILF Poses In Her Favorite PVC Mistress Outfits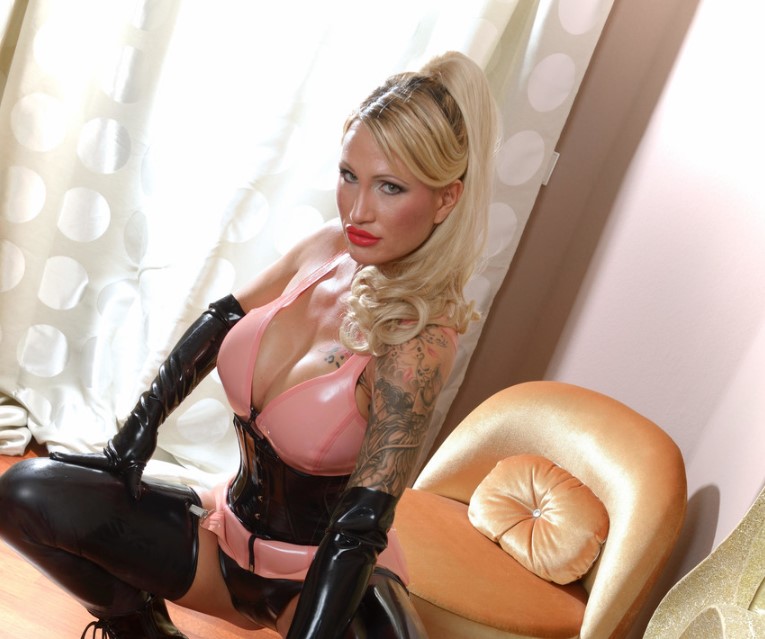 If you like watching dominant girls in action, you are going to fall in love with this beautiful babe. She has long blonde hair put up in a ponytail, with plump red lips, and the overall mistress aura surrounding her. Her first outfit is the pretty pink rubber one, where she is revealing her naughtiest curves by having a corset. She looks exceptionally beautiful, as that corset accentuates her tiny waist. She will switch to a black outfit next, where you get to see her play around with a whip… she really does look like the perfect MILF for domination.
Of course, she saved the best for last! Her green outfit reveals the most, and you get to see just how huge her tits are. She also has an amazing ass, and tattoos all over her beautiful body. Her high heels make her look so fierce, and she always likes to spread her legs and show off her curves in all sorts of positions. This woman is the perfect choice for everyone who loves to be dominated, as she will be able to make you cum in an instant! She has had a lot of experience when it comes to pleasing submissive guys, so if that is what you are into… you have found your perfect babe.
Gallery from: caleatoxic.club
boot licking, boots, celea toxic, Dominant, femdo, high heels, JOI, mistress, pvc, rubber, slave, smoking
---